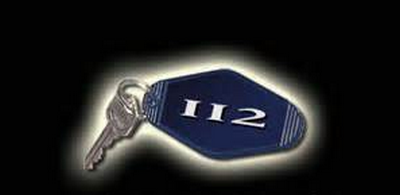 Room 112 (A Dark Short Story)

I arrived at work at just a few minutes before 8 o'clock a.m., as always; never had I been late in the eleven years I had worked at the small motel just outside of Chicago. My duties were always the same; I was set in my ways, and I knew what had to be done. The rooms had to be cleaned, and I was the one who had the pleasure of cleaning them. There were thirty rooms numbered from 101 to 130, and they were always cleaned in order, obviously those that were occupied changed the order depending on the wishes of the occupant. Seeing that I was ahead of schedule with my morning duties, I decided to take a little break. Room 112 was my home, had been for the last four years. My room was unique with its layout as compared to all of the other rooms. It was on the east corner, and it had been designed as a residence for the manager originally. The current manager has a home in the city, so luckily for me, the room was available.

After realizing that I had forgotten my wallet, I returned to get it. I opened the door, and walked into the room. This was actually more of a suite, having a separate living room, a bedroom, a fully functional kitchen, and of course, a bathroom. It also had features that only were revealed to me, and they had nothing to do with the motel, itself. At one time, this room scared the hell out of me, and more than once I thought of leaving because of what I had personally witnessed. Things happen in this room, strange things, and quite often. It started with the very first night that I stayed in the room, and it has continued, and progressed since that night. That first night, as I lay in bed, I heard voices in the night, and not distant voices, but coming from within the room. I could hear a man and a woman, and they were always arguing. What they were saying was not clear, but the anger was obvious. It went on for what seems like hours, and then I heard what sounded like a gunshot, and it remained silent for the rest of the night after that. This was not a one- time occurrence; it happened every single night thereafter. I never told anyone about my experience, nor would I ever. Why should I? No one would believe me, anyway, so why subject myself to the ridicule and doubt I would surely face with that revelation? No, this was my secret, and it would remain that way for now.

I grabbed a bottle of water from the refrigerator and seated myself at my desk in the living room. Startled, but not surprised, I saw a note on the right hand side of my desk. It said simply, "Emily, I have to work late, tonight, so I will not be home until about 11:00. Love, Michael" This still scares me. I have no idea as to who Emily or Michael were, but this same note appears every Monday on my desk. I crumbled up the note, threw it in the trashcan beside the desk, but I know next Monday, I will have to do it again.


After a while, I decided I had better get back to work, so I did just that. My next room to clean was 114, the one directly beside my room. I had been cleaning for about ten minutes when I began to hear banging on the wall coming from my room. After the long list of unusual activity I had witnessed over the last four years, I really did not pay much attention. Or, at least I didn't until I heard glass break. I wondered if someone else had heard this, or if I could just add it to the sounds that were usually exclusive to my ears. I dropped what I was doing and opened the door and peered into the hallway to see if anyone was there. The hall was completely empty, and at that moment, I was unsure as to whether to feel relief that no one had heard the sound, or to feel fear knowing I would have to investigate the sound on my own. Either way, I knew what I must now do, and I was a little anxious about looking into my room. I walked into the hall, and stood in front of my door and just stared at the numbers for a moment. It reminded me of a story the original owner had told me about the room. You see; my room had not existed when the motel was first built. It was a storage area where all of the linens, cleaning supplies, etc. had been stored. There had been a basement just below the room where the boiler had been kept which was the source of heat for the building. There had been many problems with the system, and it was finally replaced. The basement was filled in with dirt, and the storage area was remodeled to become what is now my room. Very few people knew of these facts; besides, who would care other than the owner, the manager and myself?

I placed my key into the lock on my door, slowly turned it, and then removed the key. I grabbed the door-knob, and in one motion, turned the knob and swung open the door. The living room seemed completely normal. Everything is just as I had left it. I walked to my bedroom door and looked into the room. Over the years, I have become accustomed to finding little surprises when I would enter my room, but what was before me took it to a new level. The mattress on my bed had been flipped over into the middle of the floor. The drawers in my night- stand and my dresser had been removed and the contents were scattered everywhere. All of my pictures have been removed from the wall and thrown across the room, breaking into pieces. I walked into the bathroom, and just stood there staring in shock at what was before me. The mirror above the sink was smashed, leaving glass all over the room. That must have been the sound that I had heard while cleaning room 114. There were tiles broken up and removed, exposing the wooden floor below. Several planks had been pulled up and you could see the ground below. My heart was racing, and I began to panic. What bothered me most was the fact that I knew I must now come forward and explain some of the things that have happened in the past, in addition to having to explain what happened to my room. This will not be easy to explain, and no one is going to believe me.

I decided that it would be best to just wait until the end of the day to reveal my secret to the manager, the police, and whoever else needed to know of the bizarre activities that were only known to me. In my present frame of mind, I just did not feel I could handle the situation right now. So, I went about my cleaning, going from room to room, constantly thinking of what happened earlier that day. I did not want to have to explain what literally could not be explained. I finished my work, and rather than go to my room, decided I needed a drink. I jumped into the car and drove across town just to get away from the area.

There was a small bar just off the road, and at this point, if they sold alcohol, it was good enough for me. I parked the car, and walked inside and took a table in the corner. The waitress immediately came to my table, introduced herself and asked for my order. I ordered a scotch and water, hesitated a second, and then told her to make it a double. In a matter of seconds, she was back with my drink; I told her to start me a tab, and to bring me another drink in about five minutes. She just smiled, and said no problem as she walked away. The scotch burned as it went down, but at the same time was refreshing. I sat the glass down, and fumbled to get my cigarettes out of my shirt pocket and lit one.

About three drinks later, I felt a little more relaxed but could not stop thinking about the condition of my room. I had just dismissed the small unexplainable experiences I had encountered within the room, but this is not something that can just be tossed aside. I was a little startled when I looked up and saw a man standing before me. He called me by name and asked if he could have a seat. I told him that I was not really in the mood to talk, and asked him to leave. He then told me that his name was Michael and that he had been the manager of the motel before I started working there, and that he needed to talk to me. I felt frustrated and confused at the same time, but told him to be seated. He proceeded to tell me something that from the beginning demanded my full attention. His first words were to tell me that he knew what I was seeing and hearing. With that statement, alone, I felt like my heart was going to come through my chest.

"What do you mean, you know what I am seeing and hearing?" I asked in an almost angered voice. "Just listen to what I have to say, and you will understand what I mean." He answered. He motioned for the waitress and told her to bring us another drink.

He then began his story. "Ok, you need to listen to my whole story without interruption or I will never finish. When I was managing the motel, I worked unusual hours since my only help was an assistant manager that worked from 8:00 P.M. until 6:00 the next morning. My wife became frustrated because of my hours and we were always fighting about it. That drove me away and made me work more hours just to avoid the conflict. She had more than once accused me of seeing someone else, and eventually, it happened. I began having an affair with a woman who would stay at the motel about once a month. My wife had reached the point that she simply did not trust me, even though she had never found any evidence of me being disloyal to her. I remember on Monday morning, I left her a note stating that I had to work late, knowing my friend was going to be in town that night."
He paused, and took a sip of his drink, and sat the glass back on the table.
He glanced at me to see if he still had my attention. I think it was obvious to him that I was listening. He proceeded to tell me his story.

"I saw my friend that night, and did not get home until almost midnight. My wife was furious. She started screaming at me the moment I walked into the door. She kept on and kept on until I snapped. In one motion, I opened the middle drawer of my desk, removed my 38 special, and shot her in the head. She fell to the floor, never to wake up, and I simply watched as she died right before my eyes."

I interrupted him, stood up, and told him he needed to leave and told him that I should go to the police with what he is telling me.

He immediately responded. "Let me finish, then you can tell the police anything you wish, but it will do no good. There is nothing they, or anyone else can do to me."

"OK, you have five minutes." I told him as I sat back in my chair.

He continued. "I wrapped her body in sheets and took her back to the motel. I parked on the side of the building so no one would notice me. I then took her body into the storage room, which we know is now your room. I sat for hours planning my next move, and finally knew exactly what would happen. I took the body into the basement and placed it into the freezer. Now, here is where my brilliance comes into play. That damned boiler had been nothing but trouble for the last two years. I made plans to replace it with a central air unit, and the owner agreed because of all the money he had been spending on the old boiler. Since nothing was in the basement, except for the boiler, lots of pipes, and my wife, I had the basement filled with dirt, after making it clear that it was more of a hazard than anything else. That is when we renovated the storage area and that is how the room you use now came into existence. Her body is just below your bathroom, and will remain there forever. And just for the record, I just needed to tell someone. I have been the only one who knows about this until just now."

Without saying anything else, the man stood and walked away from the table and out the door. I just sat there shaking from fear and disbelief of what I had just been told.

I did not know what to do, so I just decided to go home and think about how I would deal with this. I got home, and stood in front of my door, silent and motionless, not really wanting to go inside. Finally, I unlocked the door and walked in. I immediately walked into the bedroom, and what I saw scared me to the point that I dropped to my knees in my weakened state. The room was completely normal. The bed was back as it should be, the drawers and their contents all in place, and even the broken pictures were back on the wall in perfect condition. I was almost too frightened to walk into the bathroom, but finally summoned the courage to do so. The bathroom was the same...The mirror was in one piece on the wall, and the floor was just as it should be. My pulse was out of control, and sweat was pouring from my body. There is no way I can ever say anything about what has happened. In reality, there is nothing to tell. In my weakened condition, I plopped down on the bed and just shook with fear. I never went to sleep; I just lay there staring at the ceiling thinking about what had transpired that day. That morning, I was sitting at the table drinking a cup of coffee, and a thought suddenly hit me like a ton of bricks. I realized that for the first time in four years, I had not heard the voices during the night. Maybe, it was finally over.

The next day, I was talking to the owner of the motel, and during the conversation I mentioned the man who was at one time the manager. He told me a little about his working with him, but did not say too much. He also told me that his name was Michael Ellington. I asked him if he knew where he was now. The owner proceeded to tell me that he had died three years ago.
vic damico © 2010